CRH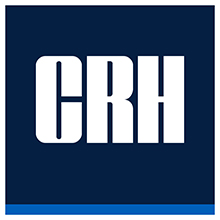 CRH plc was formed through a merger in 1970 of two leading Irish public companies, Cement Limited (established in 1936, later to become Irish Cement) and Roadstone Limited (established in 1949).
The newly formed group was the sole producer of cement and the principal producer of aggregates, concrete products and asphalt in Ireland. In 1970 CRH had sales of c. €26m, 95% in Ireland.
Since that time, CRH's strategic vision has been to become an international leader in building materials, delivering superior and sustained shareholder returns, while reducing its dependence on individual markets and achieving a balance in its geographic presence and portfolio of products.
CRH (LSE: CRH, ISE: CRG, NYSE: CRH) is a leading global diversified building materials group, employing c.85,000 people at c.3,600 operating locations in 32 countries worldwide. With a market capitalisation of c.€26 billion (June 2018), CRH is the largest building materials company in North America and the second largest worldwide. The Group has leadership positions in Europe as well as established strategic positions in the emerging economic regions of Asia and South America. CRH is committed to improving the built environment through the delivery of superior materials and products for the construction and maintenance of infrastructure, housing and commercial projects.
A Fortune 500 company, CRH is a constituent member of the FTSE 100 index, the EURO STOXX 50 index, the ISEQ 20 and the Dow Jones Sustainability Index (DJSI) Europe. CRH's American Depositary Shares are listed on the NYSE.
For further information on CRH please visit www.crh.com.
TECHNICAL DOCUMENTATION
Download certifications, advisory leaflets and other data in PDF format.