Irish Cement is a founding company of the CRH Group a diversified international building materials group headquartered in Ireland.
In 1970 CRH had sales of just €27m and was almost entirely based in Ireland.  Today our turnover is approximately €25 billion with businesses in 32 countries worldwide.
CRH provides building materials across the spectrum of the construction industry – from building foundations, to frame and roofing, to fitting out the interior space and improving the exterior environment, on site works and infrastructure projects, our materials and products are used extensively.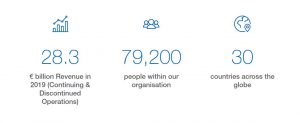 A Fortune 500 company, CRH is a constituent member of the FTSE 100 index, the EURO STOXX 50 index, the ISEQ 20 and the Dow Jones Sustainability Index (DJSI) Europe. CRH's American Depositary Shares are listed on the NYSE.
Graduate Application Process
ABOUT US
Irish Cement have been the leading supplier of cement in Ireland for over seventy five years.