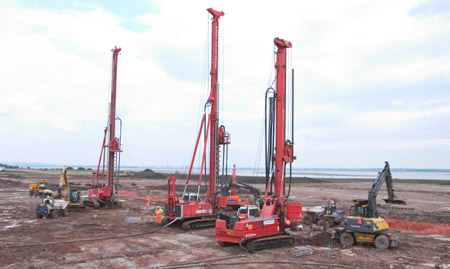 Sulfate-Resisting Portland Cement
I.S. EN 197-1 : 2011 CEM I-SR 3 42.5N
Sulfate-Resisting Portland Cement (SR) is a special purpose cement used where sulfates are present in concentrations that may damage Normal or Rapid Hardening Portland cement concrete.
Sulfate resistance is achieved by adjustments to chemical composition to limit the level of C3A in the SR.  This product is available in bulk.
Ground Granulated Blastfurnace Slag (GGBS)
I.S. EN 15167:2006
Ground granulated blastfurnace slag (GGBS) is a co-product from the steel manufacturing process.  As well as supplying the addition, Irish cement also supply blended CEM III cements.
Irish Cement supply both GGBS to I.S. EN 15167 and blended CEM III cements (which contain GGBS) to I.S. EN 197-1 in bulk.
Specialised Products
Irish Cement Limited supplies a range of special cementitious products for specific customer requirements on demand: – binders for the mining and oil industries and other specialised products.
Please contact the Technical Marketing Department or Sales Support for further information.

CEMENT SAFETY GUIDANCE

Cement safety data sheet
TECHNICAL DOCUMENTATION
Download certifications, advisory leaflets and other data in PDF format.