CIF visit to Platin Works
July 10, 2015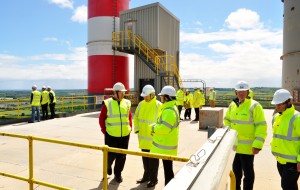 Members of the CIF Western and Midland Region visited Platin works on the 28th of May 2015 where they were welcomed by Irish Cement Managing Director, Jack Dalton.  The delegation, led by CIF Director General Tom Parlon, got a guided tour of the works and the cement production process from Ray Molyneaux the Irish Cement Operations Manager.  Ray outlined the many process improvements and equipment upgrades that have meant that Platin remains one of the most efficient cement plants in Western Europe.  The tour included a visit to the quarry, the limestone store, the preheater tower as well as the control room and advanced Autolab facilities.
TECHNICAL DOCUMENTATION
Download certifications, advisory leaflets and other data in PDF format.