Concrete Practice in Ireland 2015
July 10, 2015
Irish Cement were delighted to be a gold sponsor of the recent Irish Concrete Society "Concrete Practice in Ireland" conference held at UCD on 18th of June 2015.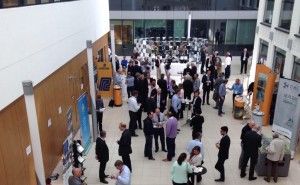 This conference, first held in 1965, is normally held once every 10 years.  On the day, the 130 delegates from across all sections of the Irish Construction Industry came to listen to papers describing advances in concrete practice over the past 10 years and expected trends for the future. Leading representatives from the following sectors gave presentations on the day : Cement manufacturers, Aggregate providers, Readymix producers, Contractors, Consultant Engineers, Architects, Precast manufacturers and Academia.
Richard Bradley from Irish Cement Technical Advisory Services presented a technical paper detailing changes in cement manufacture and the Irish cement market over the past 10 – 20 years.
This event was a unique opportunity to take a day to consider how our industry has performed in what has been an eventful 10 years for Irish construction.
TECHNICAL DOCUMENTATION
Download certifications, advisory leaflets and other data in PDF format.