CRH Ireland amongst first 4 companies to be re-accredited with the prestigious "Business Working Responsibly" mark
October 24, 2013
CRH Ireland was one of only 4 companies in Ireland to be re-certified with the Business Working Responsibly Mark at an event in Dublin attended by the Minister for Jobs, Enterprise and Innovation, Richard Bruton T.D. The Mark, which certifies excellence in responsible and sustainable business practices across company operations, was achieved for a second time by Microsoft Ireland, ESB, CRH Ireland and Intel.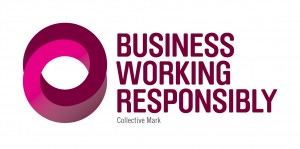 Announcing the recipient companies, Minister Bruton said:
 "An important part of our plan to create sustainable jobs is ensuring that our businesses are well run, treat their staff well and act responsibly towards the communities in which they operate. Business in the Community does excellent work in promoting and encouraging responsible corporate activity, and I am very happy that my Department, through the NSAI, supports this mission and provides recognition to companies who fulfil this mandate. I congratulate all those involved. I am determined to ensure that we continue to incentivise companies to act responsibly as this will play a key role in creating the sustainable jobs we need".
Speaking at the event that acts as Ireland's premier corporate arena for discussion surrounding corporate responsibility and sustainability, Tina Roche, CEO, Business in the Community Ireland (BITCI) said:
"Responsible and Sustainable management is an investment in an intangible – reputation. 80% of most 'best brands' balance sheets are intangible.  Leaders need to understand that building deeper relationships with employees and other key stakeholders is a must and not for the PR value but because it is the most effective way of running a business"
In a press release marking the occasion, Business in the Community Ireland commented "the companies' receiving their Mark certificates today are leading in the area of sustainability in Ireland."
The Mark is awarded after third party verification audit by the National Standards Authority of Ireland (NSAI) and is based on ISO 26000. As a company within CRH Ireland, Irish Cement Limited were audited by NSAI as part of the verification process and are delighted to be amongst the recipients of the Mark.
TECHNICAL DOCUMENTATION
Download certifications, advisory leaflets and other data in PDF format.