Irish Cement congratulates Anne
September 14, 2015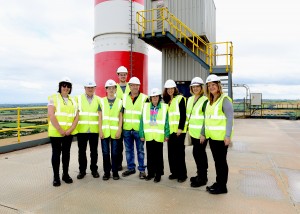 Anne Hoey, Irish Special Olympics athlete and double silver medallist, visited the Irish Cement plant at Platin in Drogheda.  She was warmly welcomed by David O'Brien, the Plant Manager of Irish Cement Platin, and Helen Bennett, HR Manager, and other members of staff.  She was congratulated on her great achievements in the recent Special Olympics World Games in Los Angeles.
Anne captured a Silver Medal for Singles Bocce and for Doubles Bocce at the LA Games.  Anne is a member of the Drogheda Special Olympics Club, which has been supported by Irish Cement Platin's Local Community outreach programme.
On her visit, Anne had a tour of the plant, was guest of honour at a special welcome reception with staff and was presented with some special gifts to acknowledge her contributions to her community and her inspirational impact on people across the country.  She was accompanied by family members including her sister Esther Owens and her husband Paul Owens, who is an employee of Irish Cement, as well as by some of her fellow Special Olympics Drogheda Club members and by her coach.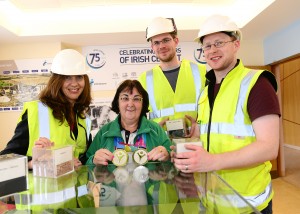 David O'Brien, Plant Manager of Irish Cement Ltd says Anne is an inspiration "We are honoured to welcome Anne to our Platin facility and to recognise her outstanding achievements in the Special Olympics in Los Angeles. She is an incredible role model and is someone who has made her community and her country very happy this year. We know how hard she, her family, friends and team mates and coaches at the Special Olympics Club in Drogheda have worked. We take great pride in our local community and in the families of our staff and Anne is valued by us for both those reasons. We were delighted to support Special Olympics Drogheda as part of our wider programme of local community engagement. Irish Cement has a long and proud history of community support throughout its 77 years of production here in Drogheda".
TECHNICAL DOCUMENTATION
Download certifications, advisory leaflets and other data in PDF format.