Irish Cement Great Limerick Run 2020
October 14, 2020
Following the success of last year's Great Limerick Run the Irish Cement team in Limerick had chosen Pieta as this year's charity. Preparations were well under way for the run in May, however, in response to public health guidance the event was postponed until October, which gave some of the team even more time to train! But unfortunately, like so many sporting events the Great Limerick Run organisers had no choice but to cancel the 2020 event.
The work that Pieta do, supporting people and communities in distress, has probably never been more important so to assist them in this vital work Irish Cement is delighted to donate €10K to Pieta.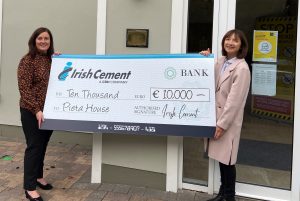 Presenting the cheque to Annette Cahill, Fundraising Executive, Pieta Mid-West is Elaine O'Hehir, Community Liaison Manager for Irish Cement Limerick
TECHNICAL DOCUMENTATION
Download certifications, advisory leaflets and other data in PDF format.