Let's speak sustainable construction
March 7, 2012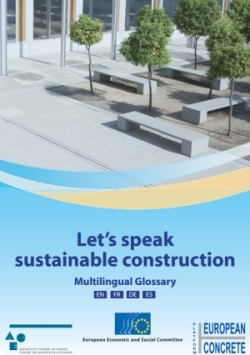 "Sustainable construction" is a term that is widely used; however, the concept often suffers from misuse of terms in describing various aspects of sustainability.
Three European organizations have co-operated in producing a multilingual Glossary of words and terms commonly used in descriptions of various aspects of sustainable construction. The three organizations involved are the European Economic and Social Committee, the Architects Council of Europe and the European Concrete Platform.
It is intended that this publication "Let's speak sustainable construction", which explains these terms in plain common language, would fill the gap created by the lack of a common European approach to sustainable construction. The glossary contains the words and terms in alphabetical order and in four languages (English, French, German and Spanish), along with accompanying simple explanatory graphics. It also contains a useful index at the back.
Copies of this free publication can be obtained from http://www.eesc.europa.eu/resources/docs/eesc-2011-01-en-fr-de-es.pdf
TECHNICAL DOCUMENTATION
Download certifications, advisory leaflets and other data in PDF format.