Limerick Cement Factory €30 million annual benefit
February 28, 2019
Limerick Cement Factory – €30 million annual benefit to Mid-West
Irish Cement Limerick – Economic Impact infographic
A recent independent economic impact study reveals that the economy of Limerick and the Mid-West Region benefits by some €30 million from the Irish Cement factory in Mungret, as part of an overall benefit of €37.5 million to the Irish economy.  This wider economic contribution from the factory includes jobs, downstream businesses, haulage, port activity and exports.
On the employment front,  the factory has 110 full-time employees, and the business generated by the factory supports 305 full-time positions in Ireland of which 241 are located in the Mid-West Region. These jobs are in service companies like local engineering firms, transport, port related activities and catering. The study  examined production, financial and employment data as well as CSO figures, and it shows that the factory is responsible for producing approximately quarter of Ireland's cement output, with 60% of the cement going to customers locally to make concrete while the remaining 40% is exported to customers abroad. The location of the factory beside a supply of essential raw materials and close to local ports has been key to this success.
Cement has been made on the site since 1938 and much of the local housing, schools and infrastructure has been built with locally produced concrete made using the local cement. The concrete used in the Limerick tunnel under the Shannon, which was opened in 2010, was made using the cement from the factory. The tunnel with a capacity for 40,000 cars per day has helped to reduce traffic volumes along the quays and bridges of Limerick, enhancing the city's road infrastructure and regional competitiveness.
It is an example of an infrastructure project that has delivered real benefits for Limerick and the Mid-West Region. This same vision underpins the Limerick 2030 ambitions with plans for exciting development and expansion of employment in the city. The flagship Limerick 2030 projects will again take advantage of local cement and concrete, a point picked up in the study which concluded that 'the economic activity, exports and the stable, long-term industrial employment generated by the factory is particularly important to the economic and social context of Limerick City and County.'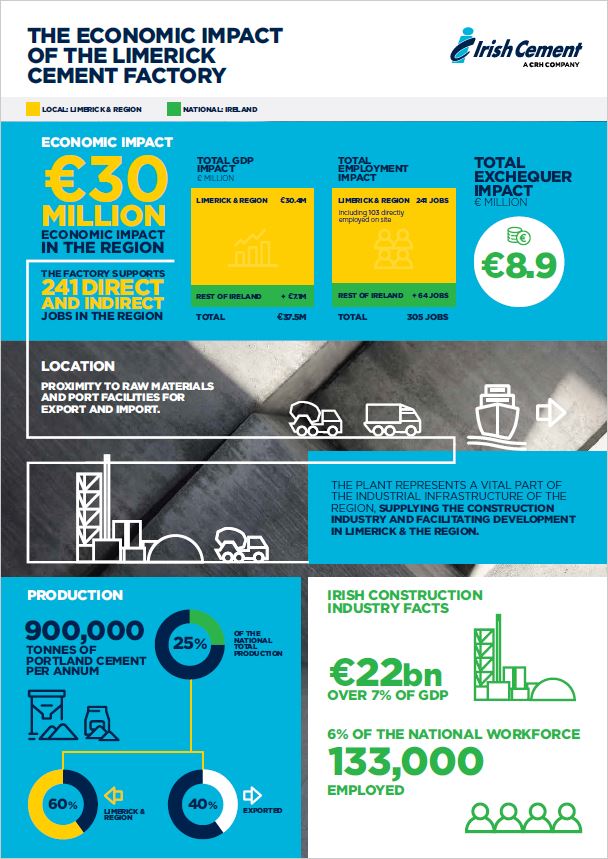 TECHNICAL DOCUMENTATION
Download certifications, advisory leaflets and other data in PDF format.