Irish Cement launched into space
July 10, 2015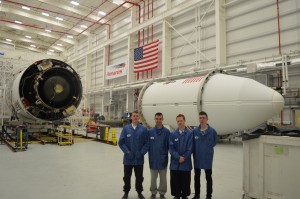 Irish Cement product from Limerick Works blasted off from NASA's Wallops Flight Facility in the USA, as part of an experiment designed by students from St Nessan's Community College, Limerick.
The students were winners of a competition 'The Only Way is Up' run by the Irish Centre for Composites Research (IComp), which offered them an opportunity to bring their experiment to the International Space Station.
The space experiment – investigating the effects of microgravity on reinforced concrete while spending 30 days orbiting the earth – was designed and built by Jason Hannan, Kevin Hanley, Jamie O'Connell and Jonathan Roche with support from their teacher Gavin Doyle.
Irish Cement were delighted to sponsor a student visit to the NASA facility and along with the Irish Centre for Composites Research provided expertise to the project.
The experiment has since been returned to earth from the space station and testing of the concrete samples made in earth orbit is ongoing.
TECHNICAL DOCUMENTATION
Download certifications, advisory leaflets and other data in PDF format.