Platin hosts international Cement Best Practice meeting
October 24, 2017
23rd October 2017 – Representatives from cement factories all over the world descended on Platin in October as Irish Cement played host to an three day international CRH event on best practice in the industry. This is Platin's second year hosting the annual event and Works Manager David O'Brien described it as "a great opportunity to showcase our operations here in Platin".
The 140 delegates from 20 countries including the Philippines, Finland and United States, took part in cement-related technical workshops and seminars on topics including workplace safety, clinker mineralogy, process optimisation, and fossil fuel replacement.
Commenting on the international gathering David O'Brien, Works Manager for Platin, who hosted the event said: "My colleagues and I in Platin were delighted and proud to be asked to host this year's event. It's hugely important for our business to have the opportunity to meet colleagues and share experience at events like this. Bringing together experts from cement factories around the world takes months of planning, but is well worth the effort."
David who has attended similar events in other countries over the past few years added: "This annual event has been running now for 17 years and it is particularly good to be able to showcase our operations here in Platin."
Marcel Bieri, one of the delegates from Switzerland said during his visit to the Platin cement factory: "It is very useful to have the opportunity to visit other cement factories, we all operate cement factories in our own countries, we have similar challenges and sharing experiences is very helpful."
But it wasn't all work as the delegates were also treated to traditional Irish hospitality as they had the chance to visit the Guinness Storehouse in Dublin, listed as one of Europe's top visitor attractions.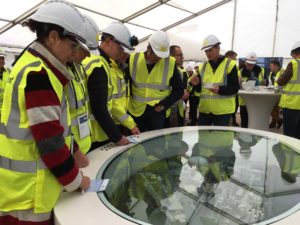 Images Cliona Ní Ghaora
TECHNICAL DOCUMENTATION
Download certifications, advisory leaflets and other data in PDF format.