Irish Cement has invested in energy and resource efficient Dry Process technology at both Platin and Limerick Works which uses a minimal amount of water in the manufacture of our cement products.
To further improve the sustainability of our operations, investments have been made to reduce the requirement for externally sourced mains water for process use. This has been achieved through recovery of the water from the quarry area at each location for use it in the process where required (e.g. for cooling equipment) prior to appropriate treatment and discharge as per our operating licence conditions. These investments minimise the requirement for an externally treated water supply thereby conserving resources and typical mains water consumption in each facility is now as low as 0.02 cubic metres per tonne of cement produced.
Objective:
Through better use of recovered water from the quarry area minimise the requirement for external treated mains water supply to both operating locations
Targets:
Success in this area is monitored using the following key parameters:
Minimising the number of cubic meters of externally supplied mains water required per tonne of cement produced
Enabling Initiatives:
Investment in and maintenance of quarry water recovery infrastructure at each location
Investment in and maintenance of appropriate treatment technologies for process water prior to discharge
Performance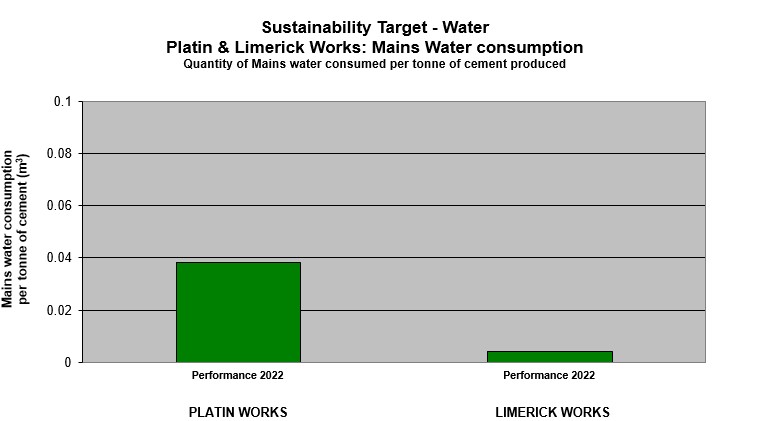 TECHNICAL DOCUMENTATION
Download certifications, advisory leaflets and other data in PDF format.